Celebrate Freedom in Style: An American Look Book
As a company whose community members are primarily American, we recognize our customers' interest in patriotically-themed events and holidays. So whether you're celebrating the 4th of July or enjoying a day off for Labor Day, we invite you to adorn your table with the iconic flag colors found in the Stars and Stripes (and across the world!). 
In this special edition American Look Book, we will explore the significance of red, white, and blue; and we will then delve into a variety of collections ideally suited for national holidays. Without further ado, let's begin!
The Significance of Red, White, and Blue:
There are various reasons why different countries have selected red, white, and blue as their flags' color palettes. For older countries, it may be related to limited color resources at the time. For others, it might be linked to the colors of their heritage and royalty. As for the American flag, inspiration was most likely taken from the English "Union Jack of England" flag. This is due to the shared meaning both countries had for the trio of colors–which are as follows:
🔴 Red symbolizes courage and bravery, paying homage to the indomitable spirit of those who fought for freedom. It is a call to remember the sacrifices made for our country.
⚪ White represents purity and innocence. It also embodies the desire for peace, unity, and the pursuit of truth, reminding us of the noble aspirations we strive to achieve as a nation. It invites us to reflect on our actions as individuals and as a country to determine whether they align with this vision.
🔵 Blue is symbolic of justice and perseverance. It reflects the steadfast resolve and determination that upholds the principles of liberty and shines a light on the hope that endures through challenging times. It reminds us of our power as citizens to influence change.
Explore the Look
Now, let's explore how Euro Ceramica's exquisite collections seamlessly blend with the Stars and Stripes, embodying the essence of this country's birth: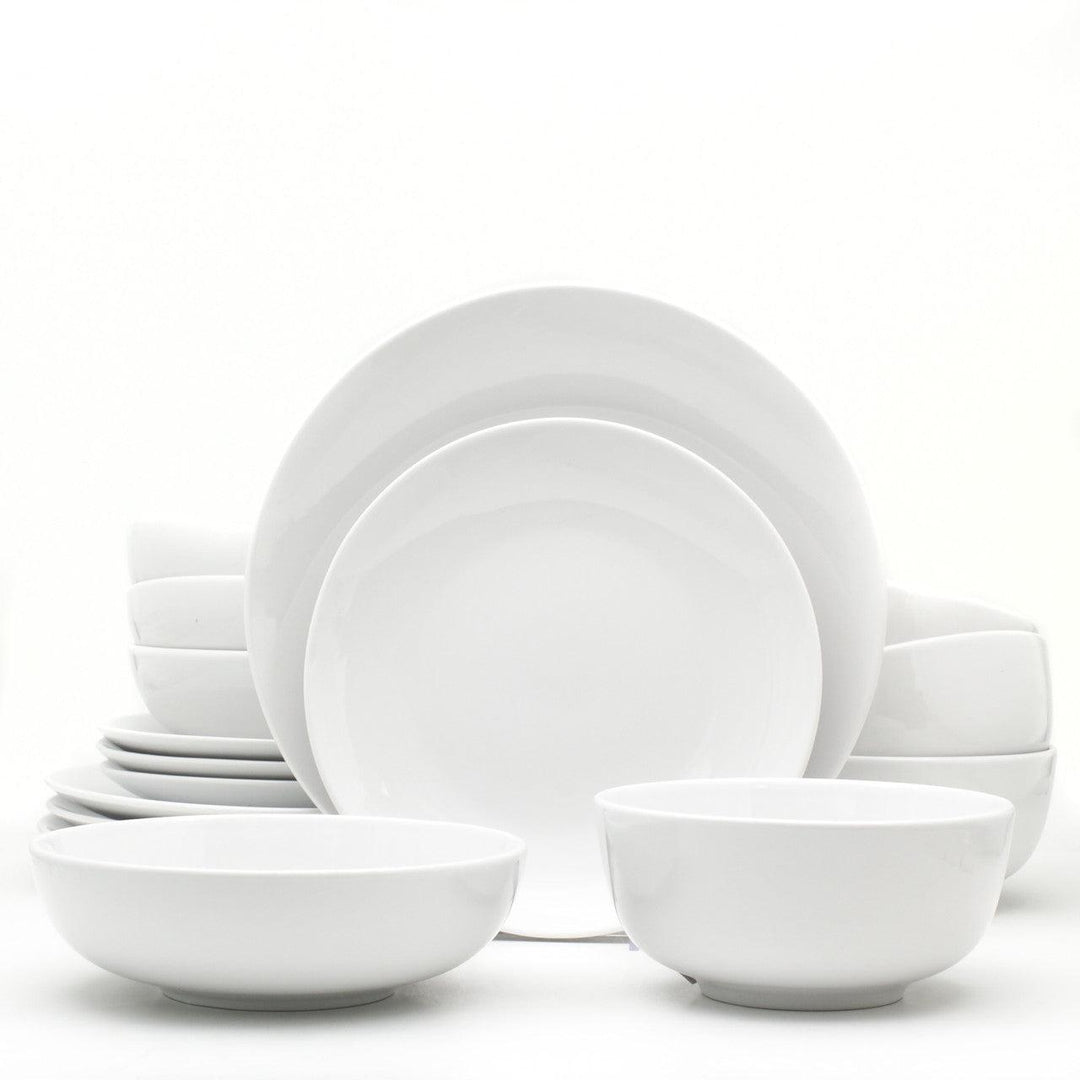 Euro Essentials: Embrace a Minimalist Spirit
For those who appreciate a chic and minimalist approach, our Euro Essentials collection sets the stage for a stylish gathering–any time of the year. Its sleek and modern design provides the perfect canvas for a table adorned with vibrant colors and refined beverages, creating a delightful feast.
Fez: Beauty in Every Detail
Looking for a festive collection that blends spectacularly into your daily dinnerware? Look no further than the Fez Blue and Fez White collections. Mix and match, stack and sort however you like. The highly contrasting colors are mesmerizing and are pulled together with a shared, embossed design. 
Siena: Understated Elegance
For those seeking a touch of sophistication, the Siena collection offers a range of options with red, white, and blue sets. Inspired by the timeless beauty of Italian architecture, these solid-colored pieces provide versatility for mixing, matching, and layering–making a perfect dinnerware set for holidays like the 4th of July.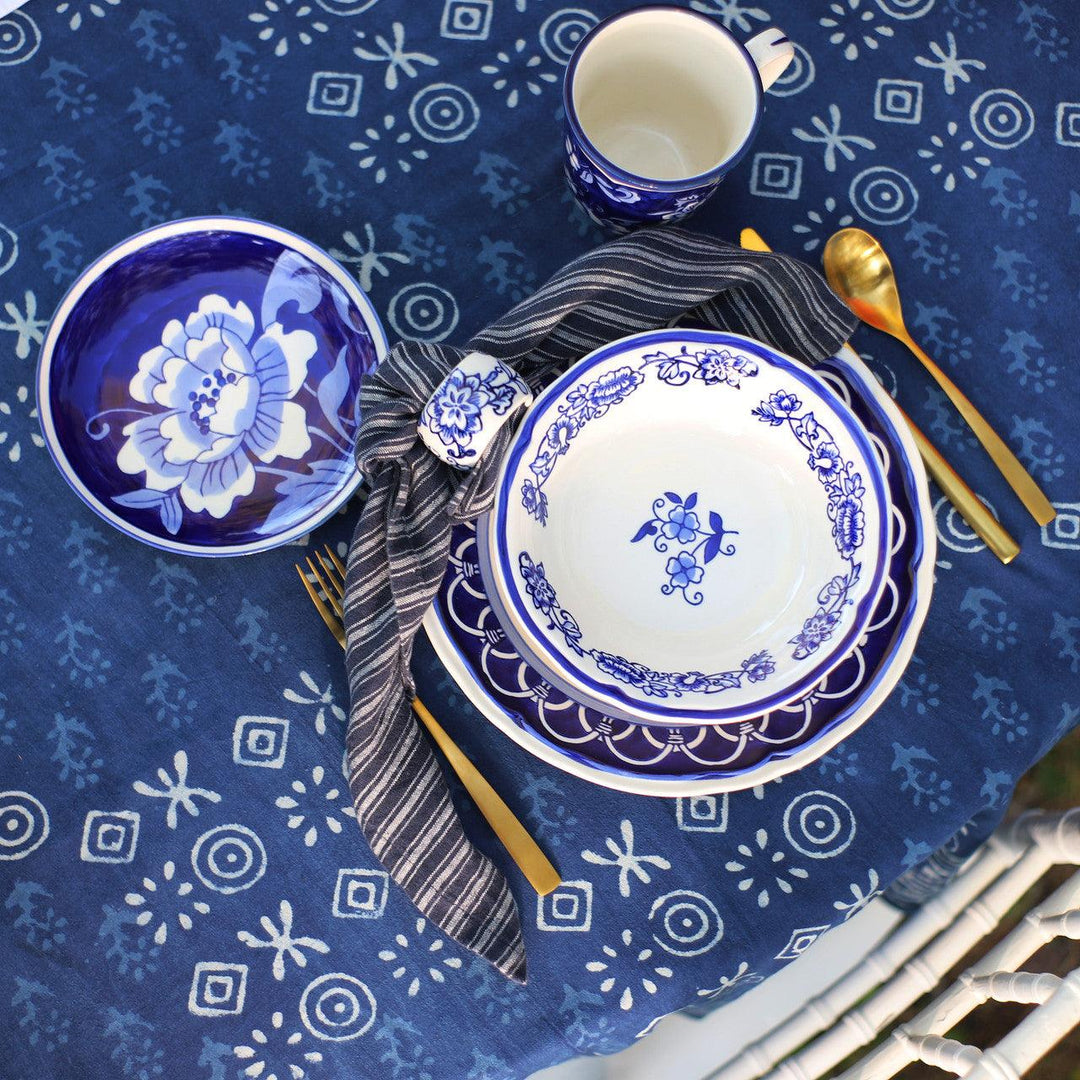 Blue Garden: Timeless Charm for a Classic Celebration
Indulge in the simplicity of a traditional holiday celebration with our Blue Garden collection. Its ancient-inspired design beautifully complements simple yet flavorful dishes, capturing the timeless essence of the occasion. Let your table become a canvas for cherished memories as you gather with loved ones for brunch.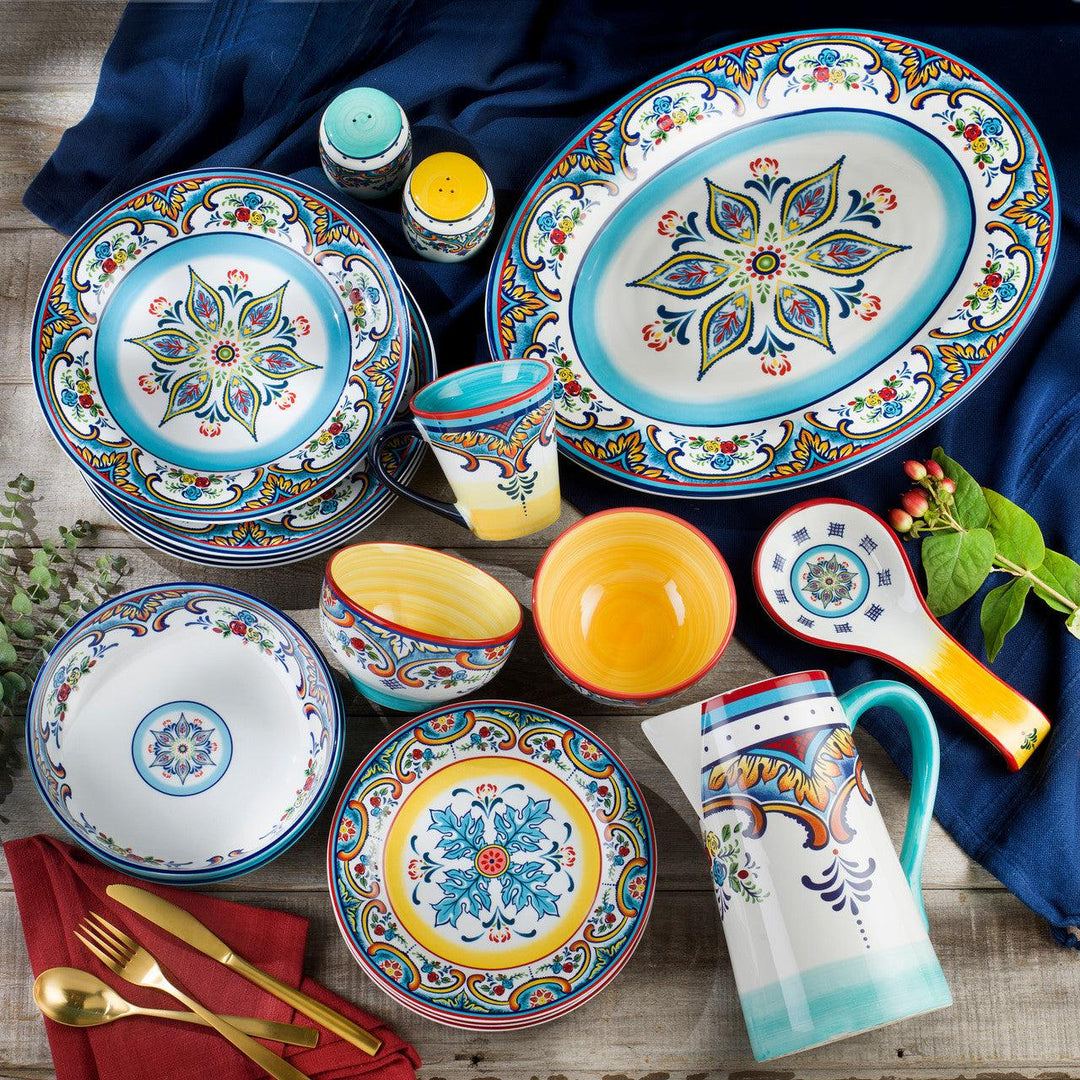 Zanzibar: Exotic Festivities Unleashed
Elevate your celebrations with the exotic allure of our Zanzibar collection. Combining the classic red, white, and blue with pops of orange and yellow, Zanzibar's floral designs resemble dazzling fireworks. Let your table bloom with vibrancy as you create a relaxing and exciting ambiance.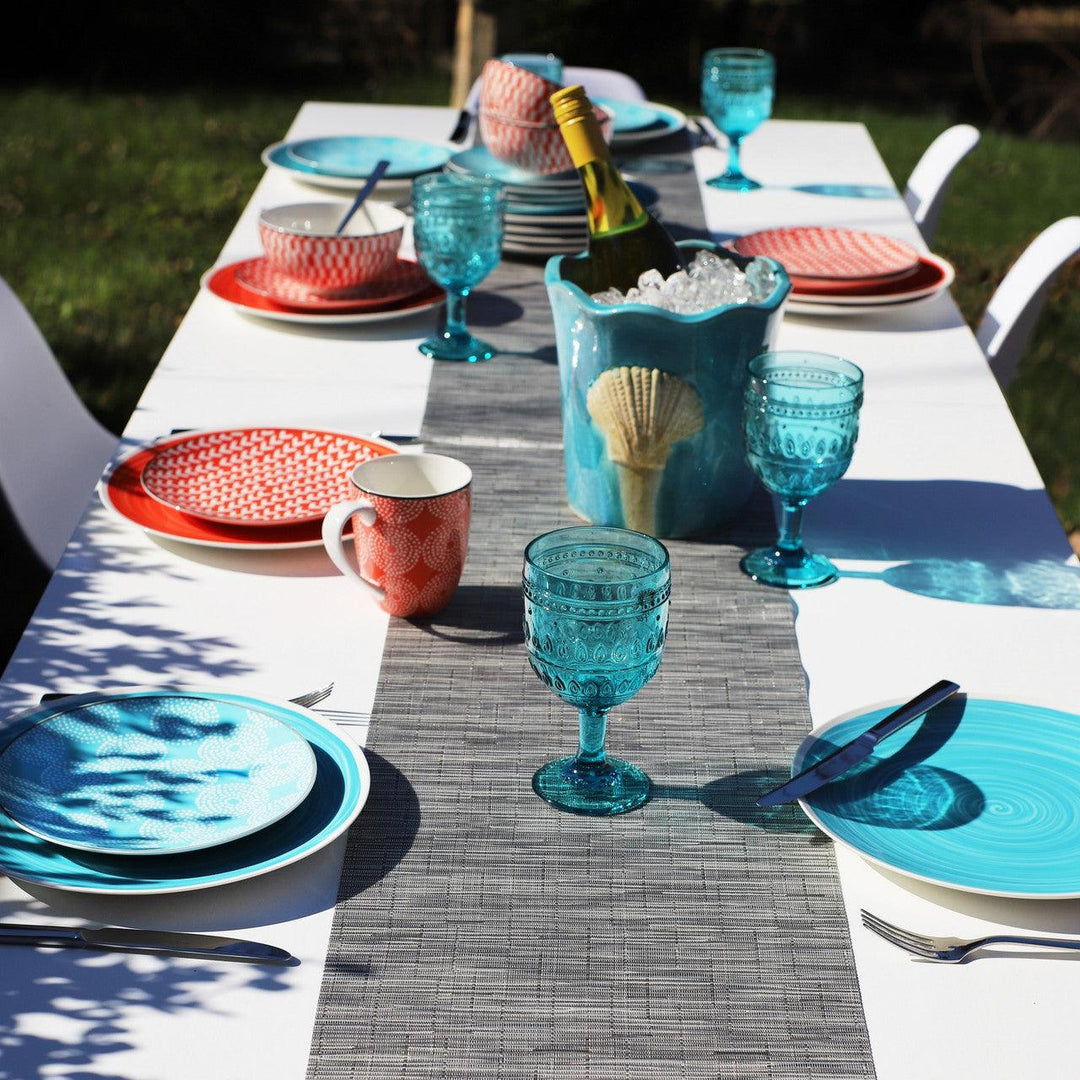 Simpatico: Fun and Playful Twist
Last but certainly not least, shake things up with a playful color twist with the Simpatico collection. Rather than a navy blue and deep red, Sympatico features a light-hearted turquoise and red-orange palette. Unleash your creativity and let the festive spirit shine through with this lively and captivating collection.
Shop the Look Book
As we conclude this journey through the American flag's vibrant colors and meaningful symbolism, we invite you to embrace the spirit of freedom and celebration. Whether hosting a patriotic gathering, enjoying a special occasion, or simply cherishing moments with loved ones, Euro Ceramica's collections provide the perfect backdrop for your table.
By exploring the significance of red, white, and blue, we've unveiled the deep-rooted values they represent—courage, purity, and justice—that have shaped the fabric of our nation. These colors are more than just hues; they reflect our shared history and aspirations for a brighter future.
Now, it's time to embark on your own creative journey, combining the essence of the Stars and Stripes with Euro Ceramica's elegant collections. Whether you embrace the chic minimalism of Euro Essentials, the timeless charm of Blue Garden, the understated elegance of Siena, the playful twist of Simpatico, or the exotic allure of Zanzibar, your table will radiate with patriotic pride.
As you gather with friends and family, savoring delicious meals and creating lasting memories, may the elegance and craftsmanship of Euro Ceramica's collections enrich your celebrations. 
Shop the look book below and celebrate in style today! ⬇️