Euro Ceramica was created by Nicolas Marijeh in 1994. Drawing inspiration from countries around Europe, many of his dinnerware collections feature Mediterranean influence from countries such as Italy, Portugal, Greece, and Spain.
Nicolas had a goal to bring European ceramics to the US Market. Euro Ceramica's mission,The World at Your Table, was born.
Nicolas started Euro Ceramica after traveling to numerous countries around the world. He fell in love with European style and design. During his travels, he visited China. It was in China that he met his beloved wife and co-CEO, Joanna Marijeh, who was an influential and skilled ceramics factory manager. Together, their skillsets have made them a united force to be reckoned with in the ceramics industry.
Joanna Marijeh joined her husband Nicolas at Euro Ceramica in 2013. The two of them share a mutual appreciation and love for uncovering different cultures and ceramic designs.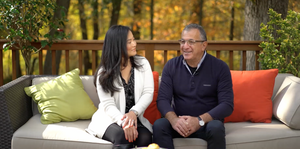 The Marijehs took their knowledge of the cities they have visited to build artistic dinnerware that brings this worldly inspiration straight to your table. Euro Ceramica is unique in its ability to create high quality, bright and colorful ceramic dinnerware.
Euro Ceramica produces traditional ceramics for the modern age. With a global focus and designers in Portugal, Italy, Spain and the U.S., Euro Ceramica fuses tradition and modernity into a unique blend of art and function. Euro Ceramica produces products to be proud of that will last a lifetime. This dinnerware will bring artistry and originality to the simple actions of daily life. Select from any of the designer collections today to bring joy to your table and beauty into your home
Euro Ceramica has been dedicated to 100% complete customer satisfaction for more than 25 years. Our goal is to produce only the highest quality of products to bring to your home. If you have any questions, please feel free to contact us any time at customerservice@euroceramicainc.com or call us during our office hours to best assist you. Euro Ceramica operates out of a main office in Boonton, NJ, with offices in Spain and China. 
Thank you for choosing Euro Ceramica to be part of your home!
Office Hours:
Monday - Friday
9:00 am - 5:00 pm EST

Saturday - Sunday 
Closed
Come visit our showroom! Appointments can be made at:
501 Division Street, Boonton, NJ 07005
Meet the Founders of Euro Ceramica
Euro Ceramica Team
The Euro Ceramica Team | Inspired Home Show
Chicago, Illinois - 2023